23 Nov

KVR NAMM 2017 Special Offer
Gig Performer is a new audio plugin host application specifically designed for live performance musicians.
We are pleased to offer a special discount to all KVR subscribers. Please use the coupon code KVRNAMM17 on checkout. This offer is valid until Feb. 4th, 2017 at midnight EST.
Find out more and download a FREE trial
THEY SAY
GP has absolutely changed how I run my guitar rig and has finally allowed me to run it how I want to rather than how the software wants to.

After more than 20 years of using a PC to run my keyboards on stage, I finally don't live in fear of the next patch or song change.

Yay finally someone with brains developed the vst host from heaven I purchased Gig Performer and OMG. This is by far the best live VST host for live work. Thumbs up big time. Look forward to gigging with this beasty vst host from heaven. Yay.

It's actually CHANGED my studio by giving me the ability to have "physical" control of virtual instruments on the fly without the need for the GEAR.

I love it when I get a new instrument or tool to use it gives me a fresh outlook and Gig Performer has done exactly that. I now find I am creating more complex sounds for my stage performances and being confident that they will work. Gig Performer was created for musicians who want reliability and a familiar way to create and recreate their sounds on stage it is not just another way to use your plugins for me it has become another instrument. Thank you Gig Performer you are a Great Performer.

Thank you guys for creating a "Musician's Tool" instead of another Engineering Tool

Very impressed with Gig Performer. It is so intuitive that probably it doesn't need a manual

Gig Performer has liberated my best audio plug-ins from the confines of the studio and finally made it practical to bring multiple instances of them to the performance stage. Simultaneous MIDI processing makes a versatile system. I now have one very compact live setup!

Gig Performer is like a breath of fresh air for laptop performers. Stable, efficient and without all the extra unnecessary features that increase cpu and distract from a smooth playing experience. It's a lean, mean performing machine and will find a home with many players looking to augment, or completely replace their hardware rigs. P.S. I just made a gig with 50 instances of Uhe Diva in it. Resting cpu = 2%. wow!

Finally, a plugin host that truly addresses the needs of live performers

Gig Performer is a game changer for me. Not only can I create any combination of sounds with this but also perform them live with seamless switching. The only limitation with Gig Performer is your imagination.

Gig Performer is an amazing tool for my unconventional set up. Allowing me to access the full power of my laptops into my system. It is quickly becoming an incredible asset to my live shows.

I was also impressed that it handled midi fx, I wasn't expecting that 🙂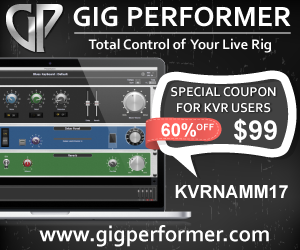 Enter text here