In previous versions of Gig Performer, you needed to explicitly enable multi-instance support by clicking at the corresponding checkbox in Options. In Gig Performer 4, multi-instance support is always enabled.
Multi-instance support means that you can run Gig Performer multiple times in the same computer, with each such "instance" operating independently.
This has many different practical applications. For example, each band member can have the ability to change the rackspace affecting their particular instrument without changing the rackspaces affecting different instruments; they can even use separate MIDI controllers or pedal-boards to do so.
There are also many advanced usages: for example, you can use a MIDI In plugin to send program change messages from one instance to another so that one instance can be used to change the rackspace in another instance.
The number of instances you will be able to successfully have open at any one time is dependent upon your system's RAM and CPU resources. Each instance can access entirely different plugins and MIDI In blocks. Separate instances can also access different audio interfaces.
Instances are managed through the File menu, where you can create new instances, and open or delete existing instances: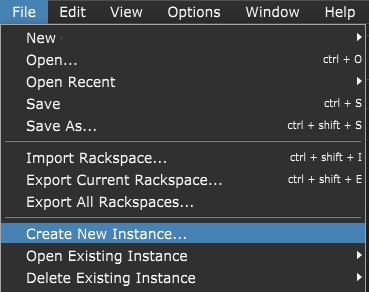 Creating another instance of Gig Performer is easy. Just select File -> Create New Instance... type in a name, e.g. Guitar, and you are all set: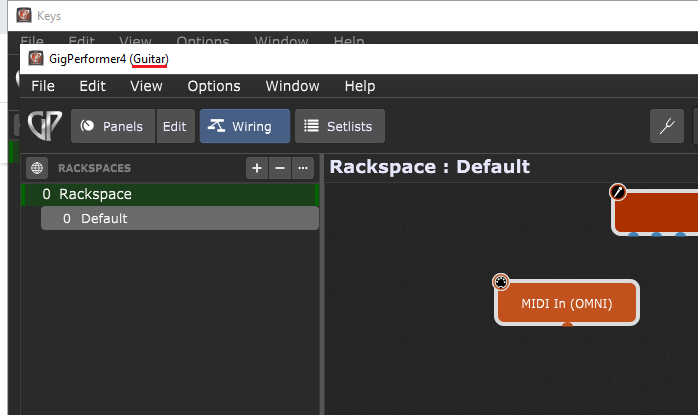 Note: do not open the same instance twice as both opened instances will respond to the same MIDI and OSC commands and changing any settings in one of the instances will change it for both, but only one will get the change immediately.
If you want to use two or more instances with the same audio interface, make sure to set the same sample rate in Audio Options otherwise one of the instances will have a sound that's slightly out of tune and will sound incorrect.
Note: some Windows ASIO drivers still allow only one application to use the audio interface at a time; these are known as single-client drivers. Multi-client audio drivers started coming out years ago, but, there are still many single-client drivers in place. Two instances of Gig Performer count as two applications, which is a problem when running on a single-client driver. Read this blog article to find out how to run multiple instances of Gig Performer with a single-client ASIO driver on Windows.