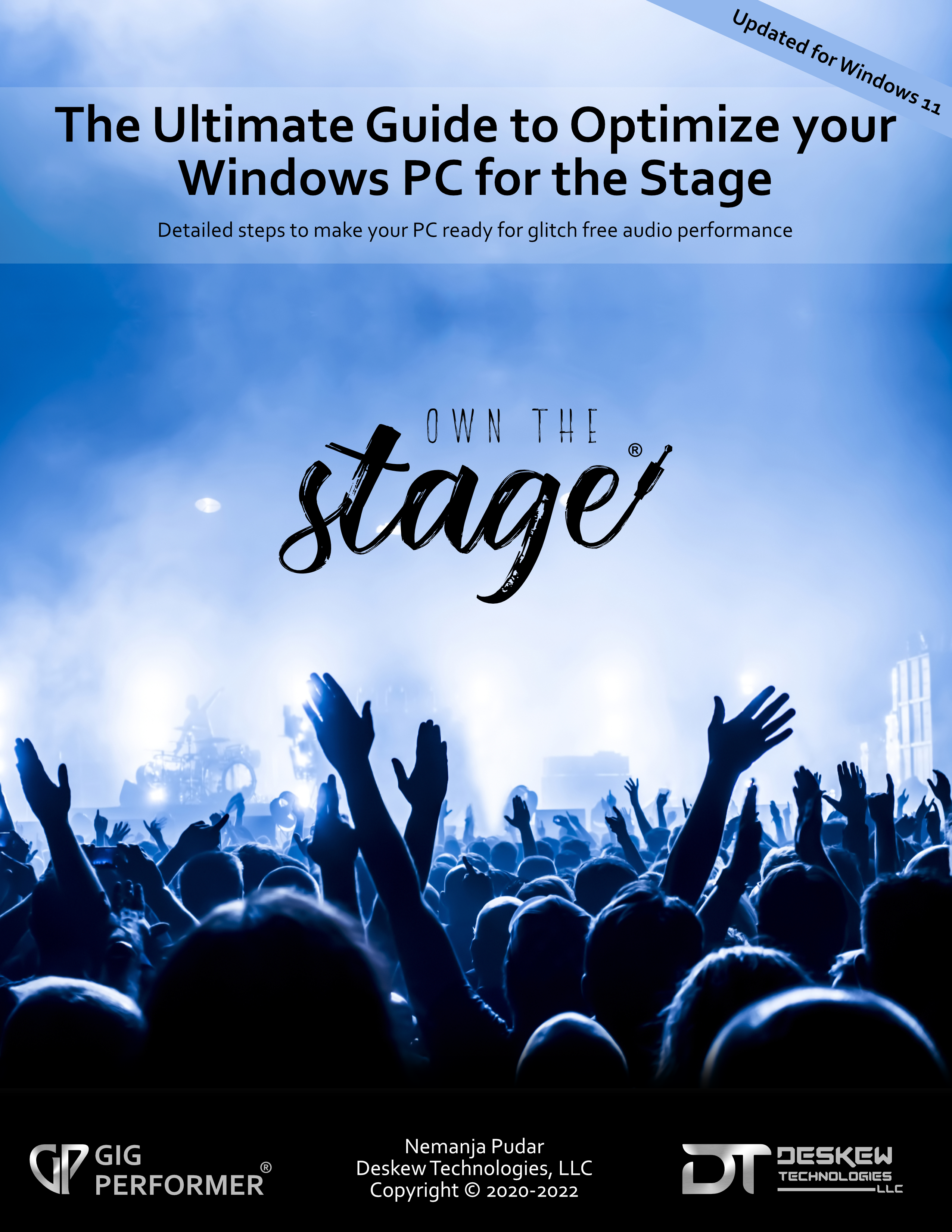 This guide is intended to help musicians optimize their Windows PCs to process audio as fast as possible.
To get the most from your Windows operating system for digital audio processing, many Windows settings and features need to be configured properly. By following this guide, you will learn to avoid issues like crackles, dropouts, audio glitches, high latency and more.
You will explore many Windows settings to understand deeply what is happening in the background, and how to adjust those settings to fit perfectly your needs as a live or session performing musician.
As an IT engineer, I have spent over twelve years configuring and optimizing Windows, Windows Server and Linux operating systems for very specific scenarios. As a guitar player for twenty years using software-based setups, I have tweaked many Windows PCs to address their audio-specific issues and to make them run reliably.
In this guide I will condense all this experience into step-by-step instructions along with many screenshots in an easy to follow format.
Gig Performer® was created by people who are both developers and serious touring musicians. While including features particularly important to performers, Gig Performer® is also highly optimized when it comes to computer resources making it the perfect tool for creating a glitch-free environment both on-stage and in the studio.
This guide focuses on Windows 10 and Windows 11 Pro, and will be updated occasionally to address relevant changes in future versions. Please visit https://gigperformer.com to make sure you have the latest edition of this guide.
Important: be aware that some tips presented in this guide are only relevant if you have a dedicated PC for audio processing. If you use your PC for other purposes or for everyday use, you might want to skip some guidelines as it may be impractical to revert back to a computer usable for day-to-day work.
Disclaimer: Use this guide at your own risk. Create a full system backup before following these guidelines, and once you have modified your settings, it is critical that you test your entire gig carefully to make sure that these optimizations work correctly.
We will start by configuring BIOS and UEFI settings and conclude with a checklist that will help you to be fully prepared for your next glitch-free live performance.
Get this book in PDF, ePUB or MOBI format:
PDF: The Ultimate Guide to Optimize your Windows PC for the Stage.pdf
ePUB: The Ultimate Guide to Optimize your Windows PC for the Stage.epub
MOBI: The Ultimate Guide to Optimize your Windows PC for the Stage.mobi