08 Jul

Gig Performer in Bearsville Theater with FOH engineer Robert Frazza

We had a conversation with former Bearsville Theater FOH sound engineer Robert Frazza on Gig Performer.

Robert Frazza is a sound expert with 40 years of experience managing tours and supporting hundreds of national and international bands. He began earning his chops at the age of 15 in the clubs and recording studios of NYC. Starting at "The Toy Specialists", studio equipment rental. They supplied all major  recording studios in NYC with outboard gear. There he learned the art of creative troubleshooting, with the end goal of achieving a standard of perfect sound quality. His early clients include Robbie Dupree, Orleans, Donna Lewis, Belinda Carlisle and Todd Rundgren.

Until recently, Robert's home base was the Bearsville Theater, where he was Director of Programming and Production. This interview was conducted in March 2021 while Robert Frazza was running the FOH for Bearsville Theater. Robert has since left the theater to focus on touring as a sound engineer with Stick Men, Security Project and more.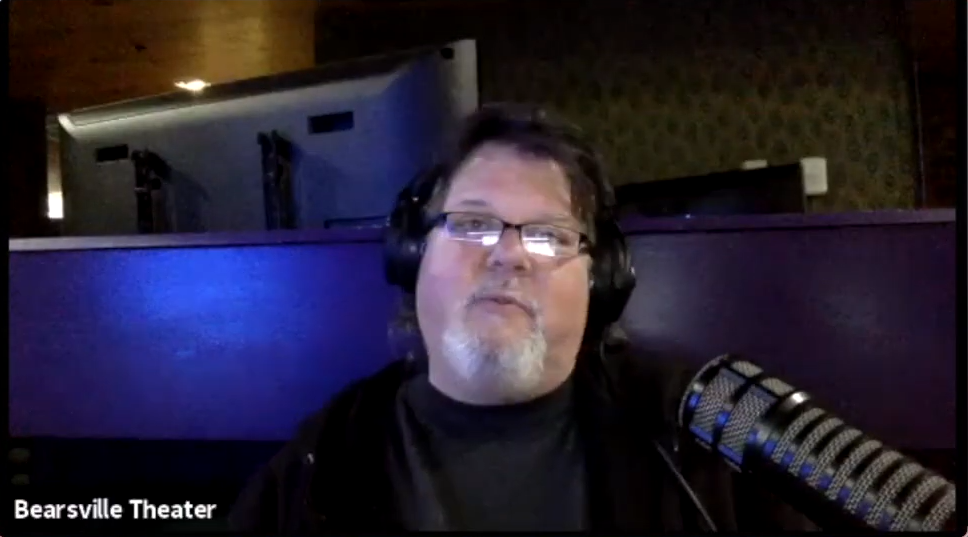 Robert uses Gig Performer as one of the main elements of this Front of House sound and here are some questions and answers from our interview.
Q) What have you been doing since the touring industry came to a grinding halt?
A) Luckily for me, Lizzie Vann, the new owner of the Bearsville Center property in Woodstock, NY contacted me in August of 2019 to come back to the Bearsville Theater to advise her on the refurb of the facility that I've spent 30 years, in some capacity offering audio advise or even running it from 2010 to 2015. We had accomplished our goals by February 2020. Unfortunately, we were shut down 2 weeks before we were scheduled to open in March due to Covid restrictions.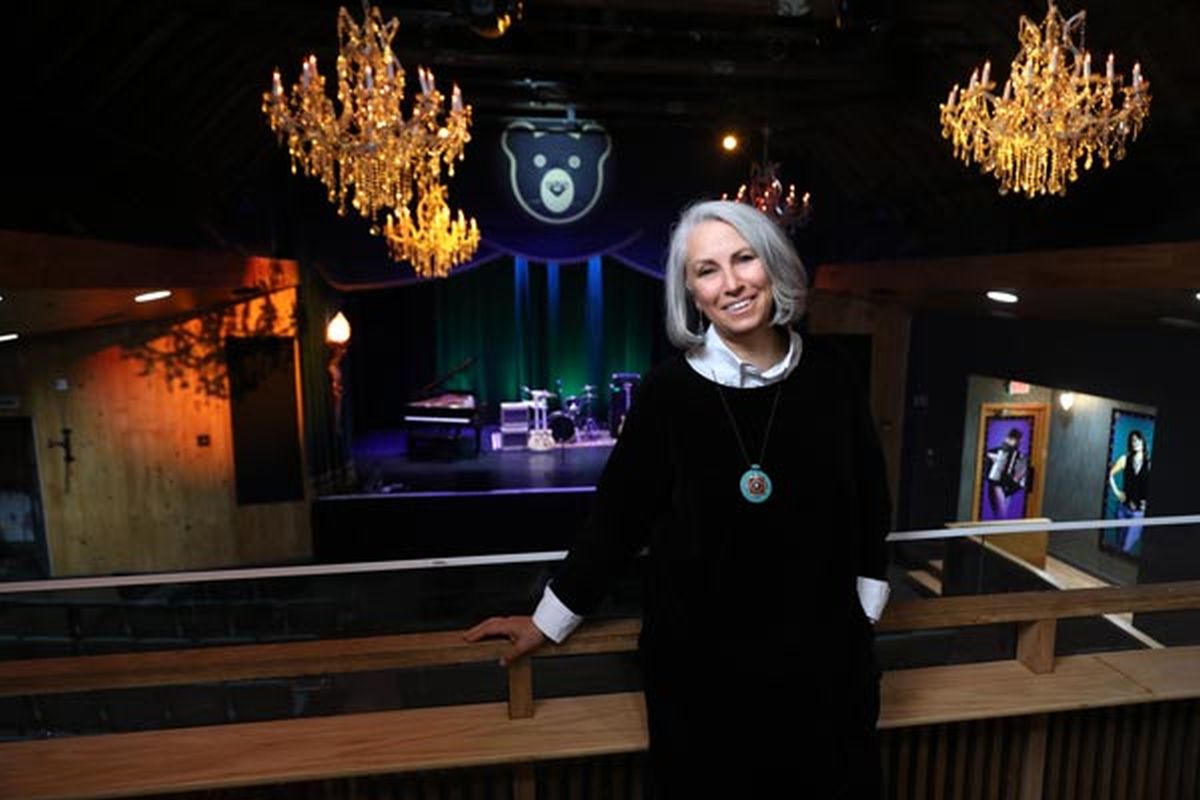 The last week of February 2020, Tony Levin's "Stick Men" had a month long tour scheduled for Japan and China that I had agreed to do. We had gotten advance notice that the China dates were canceled because of everything the Chinese were going through at the time. But Japan was still on! Tony Levin and I took the flight to Tokyo, we met up with Pat Mastelotto, Markus Reuter and Gary Husband, only to find out the Japanese tour would be canceled as well. We all had some Sushi and came home. Then of course, all touring was off. We are now looking at 2022 as far as I can see.
Q) What changes has Bearsville Theater gone through since the new owner took over? Can you share with us some of the challenges you experienced in the theater's redesign process?
A) Complete gutting of the building from the foundation up! We had major water damage from the creek that runs just out back of the venue. We chose to not alter the John Storyk design that Albert Grossman hired him to do back in the 80's. The room has such a natural sound that I didn't want to lose.
Production wise, I've upgraded our 1500 Watt audio system of 30 years to a 20k Watt Danley system, as well as going 100% digital on consoles, full LED lighting rig, and a 6 camera video system.
Q) Why did you choose Gig Performer and what are the improvements and benefits of using Gig Performer compared with the previous setup?
A) Why did I choose Gig Performer? Literally because it was designed for me personally. I'm not sure I can answer this since I'm so close to it. As you all know, David Jameson and I had been touring with a group called the "Security Project", and he would watch me every night with my X32 rack that I was incorporating Logic audio and recording all the shows multitrack. But also accessing plugins because I wasn't happy with the installed reverbs on the X32. Through Logic, I could access my Plugins. Lexicon, TC, Waves etc.… But I was having an issue with latency and reliability of the program. It was a 50/50% chance I would capture the whole show. David was watching me struggle with my system at the time and said: Ya know, I think I can make this easier for you! He showed up the next day with a working version of Gig Performer that incorporated all of my requests after 1 conversation. Needless to say, I was sold. The program didn't tax my CPU the way Logic did. I had access to all my plugins. What more could I ask for? I've not lost one show since then.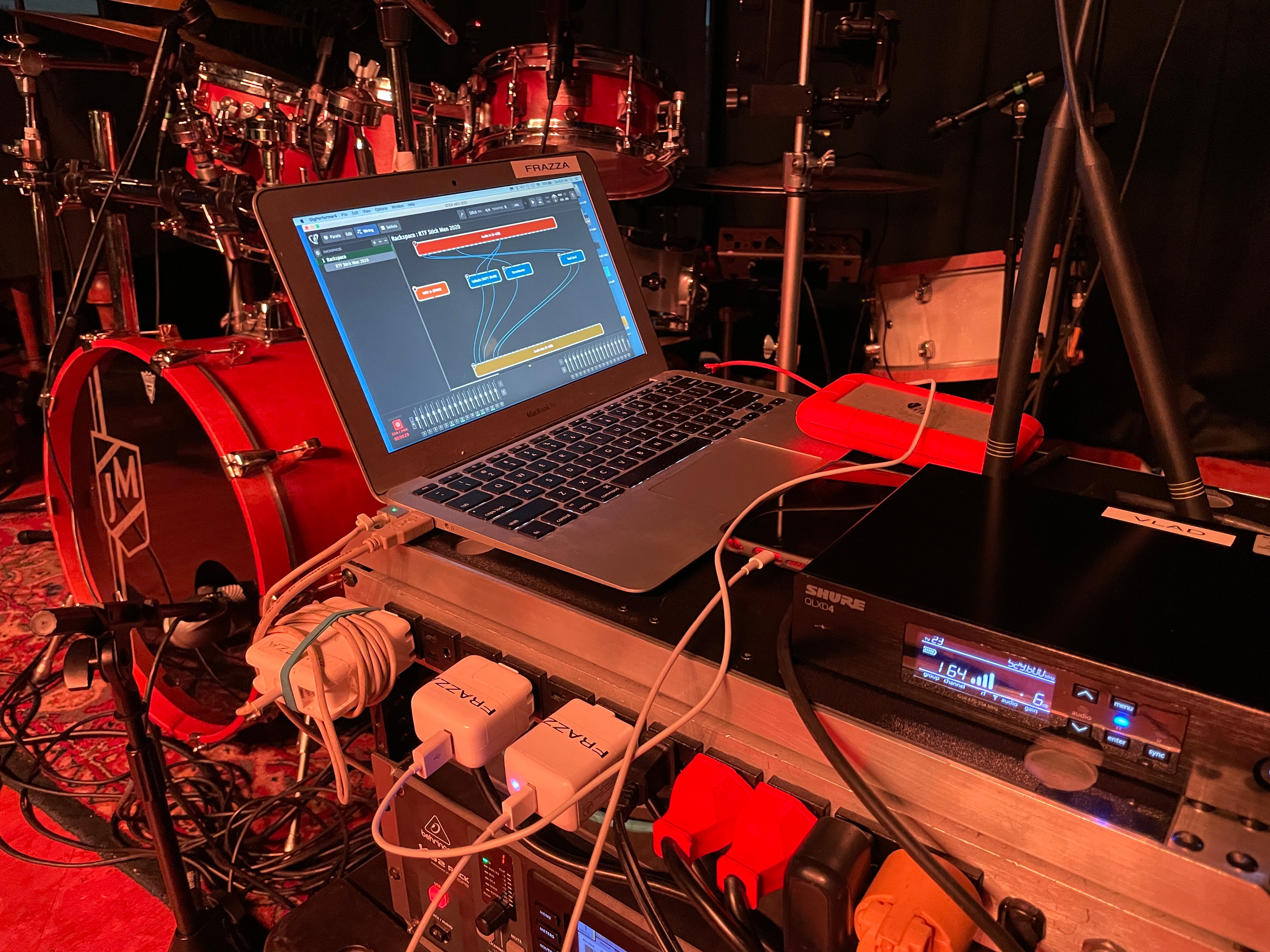 I recorded all Security Project shows with Gig Performer, and I think the past five live records from Stickmen are recorded all on Gig Performer as well.
Q) What are some of the benefits you found using Gig Performer over the previous setup you mentioned?
A) Beside the reduced CPU drain, the other thing is actually being able to program songs. With Logic I just set up a generic scenario and that would be it for the whole show. With something like Security Project, there's a lot more effect-wise stuff going on from song to song – reverbs can change, tempos can change… I can do all of that from Gig Performer.
Q) How are you incorporating Gig Performer into the new sound system at Bearsville Theater?
A) The same way I incorporate it on the road. I multitrack every show I do. And want access to all my plugins to give me a complete palette of sounds that the digital consoles don't afford. Working with Members of King Crimson and Peter Gabriel's band requires a bit more than the norm.
Q) In terms of both hardware and software, what does your FOH rig consist of?
A) Software is purely Gig Performer for both systems. The Bearsville Theater incorporates Midas consoles while my touring rig is a Behringer X32 with an S16 to upgrade to 32 channels. I use this for what I call my Boutique acts. These are bands that have to take the financials into consideration. The fact that we can tour the world with the same monitor mix, record every show and put this in an 8 space rack that costs $50 as an extra bag on a plane makes it a no brainer.
Q) You use a very unique setup for Front of House when you are out on the road and when did that start to take place?
A) Well, it's always in the back of my mind considering how can we do this without tons of gear. I did a tour with Todd Rundgren in 2004 called The Liars Tour and for financial reasons we had to get band, crew and all of our gear into one bus pulling a trailer.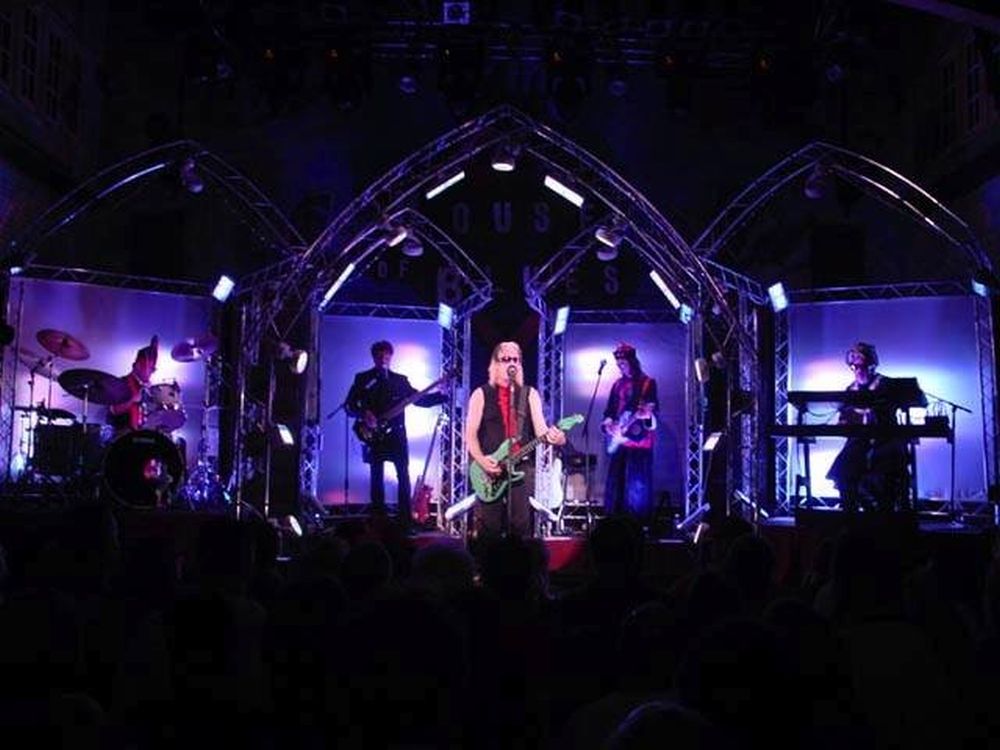 This was also the first fully LED lighting, so we were carrying all that lighting. Obviously, we couldn't bring these gigantic consoles and all these monitor wedges and stuff like that so we were thinking how can we get this smaller. This was 2004 so the digital consoles were not huge then so the best thing I could get was a Roland VM 7200 which gave me 20 input channels, but the real estate it took up was two by two feet. And 20 channels for the monitors would be enough because I wasn't necessarily putting in all the toms or all the extra stuff. We got the guys on in-ears and this was also the year that Bose came out with the L1 cylindrical radiators and we used those as side fills. It was also the early days of the amp modelling stuff. We didn't have any amplifiers on stage so they were using the Line 6 stuff. Again, without the Front of House PA on, the only thing that you're hearing is the drum kit on the stage so everything else is in their head. That was probably the beginning of how do we make this smaller. A big part of this is using this sort of systems with what I call "My Boutique Artists", great bands but we know we're not gonna be selling 20 000 seat venues. We're doing club dates but we are traveling around the world. And in the early days a band like Stick Men, each guy had a monitor wedge, each stick player had a bass amp and a guitar amp and then Pat had stereo, which is what he calls "Texas Headphones", so they are propped up behind him. So, again, without even turning on the PA it would be 120 decibels coming off the stage. The other factor is that you're traveling so every venue would have different gear. It was kind of a struggle… In every town you show up you have to do a two-hour setup and sound check just to get through the gear that they're giving you. Once the Midas / Behringer system came out I kind of jumped on that. At first it was little difficult trying to convince everyone to get on in-ears just because they're used to not being on in-ears. But as soon as we did and switched to the amp modelling, within three gigs all of them were just like "We're never doing another gig without the system". Because just for their hearing alone it's not blowing my head off and they have complete control of what they want to hear. So, we rehearse in Woodstock, show up in South America or Japan and it's exactly the same setup that you have – anywhere in the world.
Q) What is your experience with the latency and overall stability with Gig Performer?
A) Gig Performer is very stable, I didn't lose any show. It's nothing discernable to me, but I have it on the lowest latency setting if possible.
Q) What are some of the main plugins you use with Gig Performer for FOH?
A) I have a vast array of plugs. But mostly use the norm. Lexicon, TC, Waves and Eventide. But have been extremely excited by Liquid Sonics Reverberate, Valhalla and other.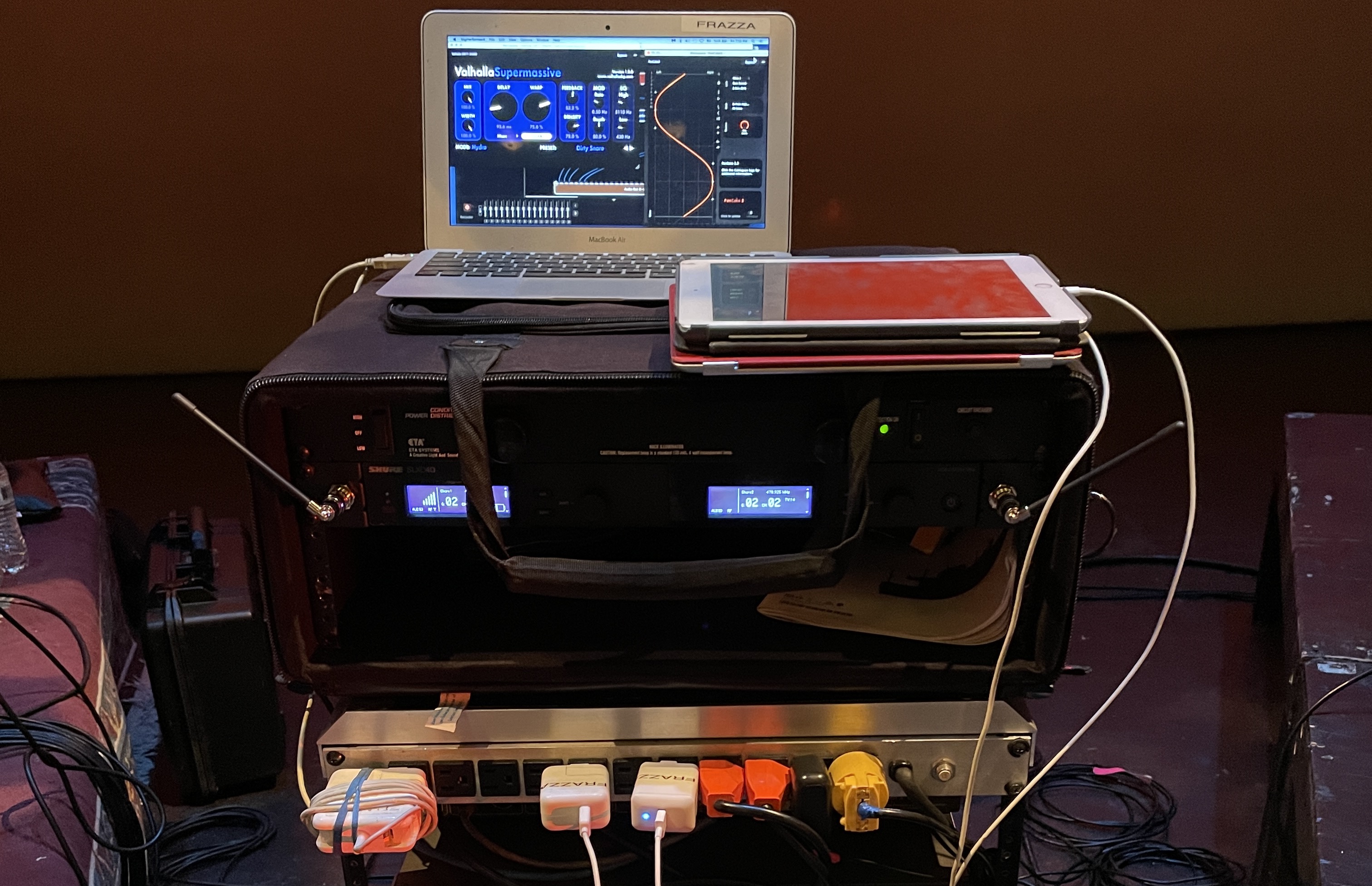 Q) How long were you using the iPad as your controller? We know that when you do FoH, you're not behind a console; people can find you sitting next to them.
A) That's also another benefit from these systems. The system stays on the stage, usually next to the drummer which allows me to hopefully sit right in the middle of the venue, actually between the speakers. Historically, consoles were always kind of put out of the way, off to a corner or whatever. Venues want to sell the seats, so with a console in the middle of the room, they're like "That's 20 seats I can't sell. Stick this console in the corner". I've done shows where the console is actually in another room. So, yeah, this is a benefit where you can actually get in the room in between the speakers and hear what the audience is hearing.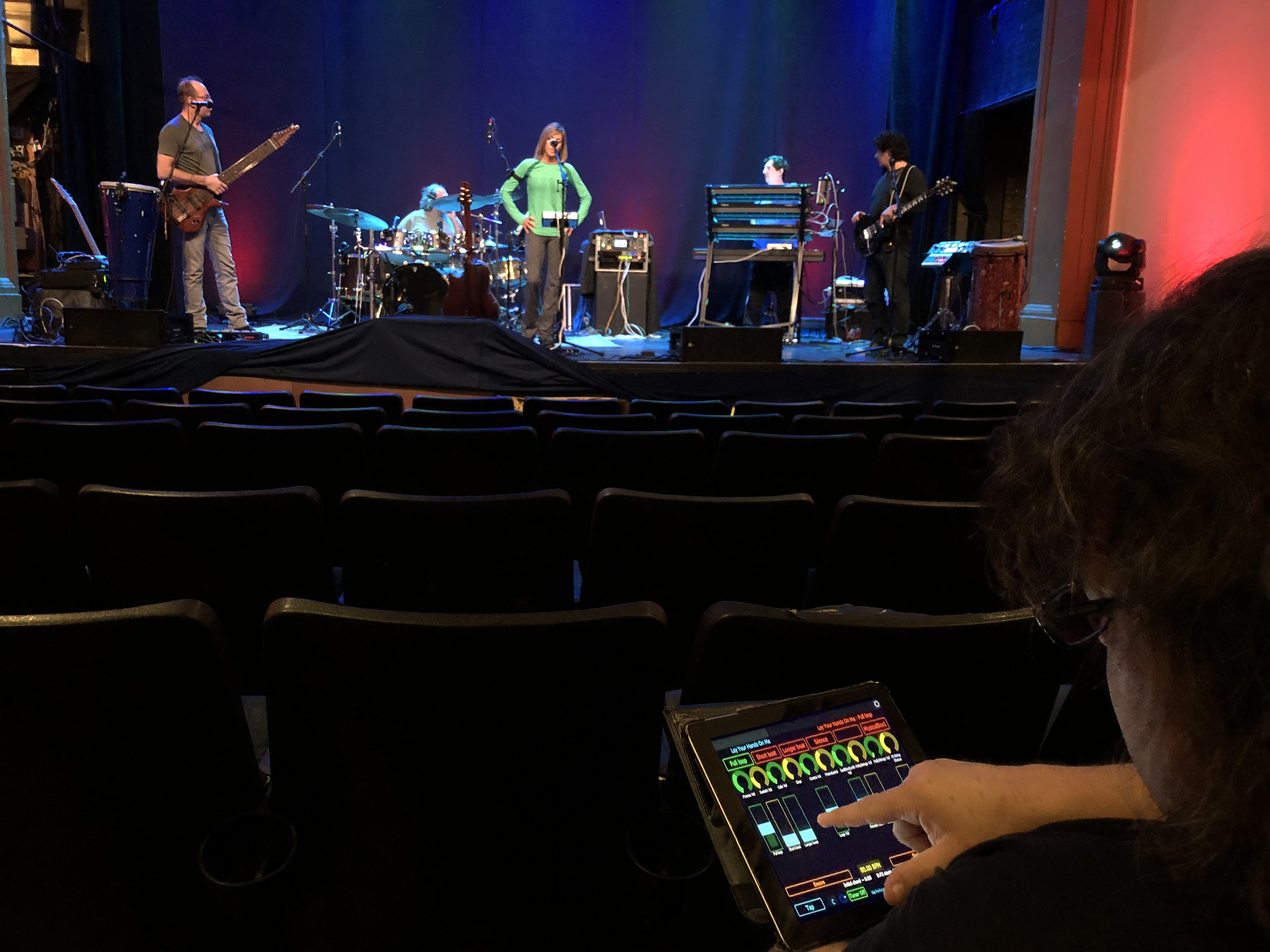 First couple of gigs with the iPad was a little shaky after standing behind faders for so many years, but I really wanted to get into the middle of the room. I've been using the iPad at least 5 years, so now it's weird if I'm standing behind a console.
Q) Does Gig Performer encompass all of the features you need? Do you have any feature request?
A) I'd like to name the recorded channels. Right now it's just input 1, input 2, and so on. If I could actually beforehand label them say kick, snare, whatever, that would be the only thing I'm looking for.
—
We hope that you enjoyed reading this interview. Visit this Gig Performer in Action thread to learn more about Robert Frazza and see photos of his setup.
Share this article it to support Gig Performer and spread the word! 🙂
Own The Stage® with Gig Performer®
The Gig Performer Team
.
Related topics:
– How To Use Input And Output Recording In Gig Performer (YouTube)
– Gig Performer is the best companion for all your musical efforts and more (Blog)