01 May

Gig Performer crashes when you try to change the sample rate

This issue mostly happens on Windows with incompatible ASIO drivers but it can also happen if a plugin crash due to its inability to handle sample rate changes that occur after that plugin has been loaded.

Try one of the following:

1) Stop Gig Performer from automatically loading the last gig file:
Please read this article to learn more. Afterward, open Audio Options and try and change the sample rate.
.
2) If that doesn't work and you're on Windows, please see this article about the use of ASIO4ALL drivers.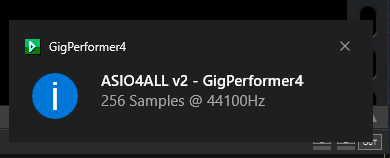 .
Related topics:
– A plugin crashed – how to find out which one?