29 Jul

Gig Performer is used by professional and well-known musicians all over the World

Many music professionals worldwide rely on Gig Performer as their audio plugin host of choice for live performance. In this article, we have compiled a comprehensive list of musicians, audio engineers, producers, and composers known to be using Gig Performer and have added references for further reading.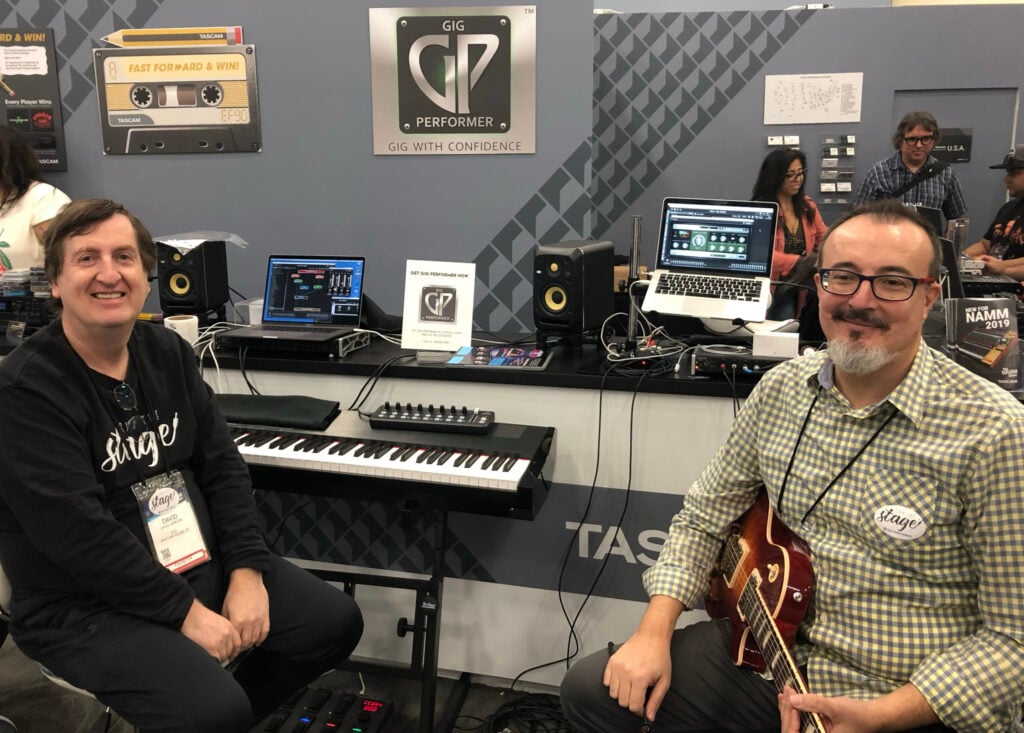 Gig Performer creators: David Jameson and Nebojsa Djogo
Alistair Begg (bass, Chapman Stick) Alistair is a professional electric bass teacher/player and Chapman Stick player. He plays in DS:UK (Dire Straits cover band) and Seriously Collins. As a freelance musician, he has played in countless bands over the years, often concurrently, playing originals and covers in a wide variety of styles: rock, pop, metal, funk, soul, blues, jazz, prog, grunge, punk, folk, and Latin. Maybe more! Check out his gear on his homepage and photos of Gig Performer in Action here.
Andy Burton (keyboardist, vocalist and composer) Andy has toured with John Mayer, Ian Hunter, Rufus Wainwright, Cyndi Lauper, and most recently with Little Steven and the Disciples of Soul. In this article, Andy emphasizes that ease of use is critical in his fast-paced world, and Gig Performer fits there perfectly. When he's rehearsing or at soundcheck, he doesn't have any time to tweak, so all his sounds in Gig Performer are programmed beforehand, and they just show up and sound right – exactly what he needs. See photos of Gig Performer in Action here.
Ashley Moore (guitar player, vocalist and producer) Ashley has collaborated with many artists including Michael Bemesderfer, Gerald Dowd, Nick Fynn, and many others. She has built her setup around Gig Performer, designing her rackspaces to have all of the controls she might want linked to widgets, which she controls from expression pedals. Learn more here about her setup. 
Blue Weaver (keyboardist, producer) Here is a long list of the projects, artists and groups with who Blue has worked (Bee Gees, Strawbs, Alannah Myles, Barbra Streisand, Duran Duran, Lou Reed, Michael Kamen, Neil Young, Pet Shop Boys, and many others). Deskew Technologies' Gig Performer enabled Blue to do the last three Massachusetts tours with a rig consisting only of a Yamaha CP4 Stage Digital Piano, a Korg nanoPad2, and a Mac mini running Gig Performer, which hosted, controlled, and mixed all his virtual instruments (learn more about his setup here). He especially praised Gig Performer's "patch cord" connection system as the key to assembling his system quickly, and then Gig Performer's reliability, low CPU usage and easiness to understand what's going on in the setup. 
Bob Luna (keyboardist, composer/arranger and producer) Bob has lent his many talents to Dionne Warwick, Paul McCartney, Rita Wilson and Tom Hanks, Deniece Williams, Smokey Robinson, Alanis Morissette, Paul Simon, Bobby Kimball (Toto), films, commercials, and more. He was impressed with the new Songs and Setlists feature in Gig Performer 3, and described Gig Performer as a godsend. Read more here about his experience with Gig Performer.
Bruce Moore (guitarist in The Fringe Benefits) Bruce is a pioneer in the latest technology of guitar synth. His instrument plays like a guitar but you hear the sound of organ, piano, sax, … and of course guitar! Learn more about this setup in this amazing episode of Backstage with Gig Performer. See photos of Gig Performer in Action here.
Chris Broderick (guitarist in Act of Defiance and In Flames) Chris is a versatile musician well known for playing in Megadeth, and Jag Panzer, but also as a touring guitarist in Nevermore. In an interview at Plugin Alliance he stated that it was effortless to assemble any type of sound with routing in Gig Performer. It opened a new realm of creative sound-making because the interface worked seamlessly with the plugins. 
Daniel Mackey (wind instrument player) Daniel played with many bands, large and small, in various venue settings; significant musical highlights have included performing with the Temptations, Four Tops, and Bobby Vinton. Gig Performer's ability to manage the demands of all those virtual instruments was crucial to Daniel. "With the hardware host I used before, I could do two instruments at the same time, but if I added a third, the processor would overload. Now, I can access the sounds I want and change them quickly on the fly, and Gig Performer stays very stable and processor-friendly," he reported in this interview. He praised Gig Performer's stability, when it comes to intensive CPU use, as some of the SWAM strings was pretty processor-intensive, but still not exceeded 20 percent of CPU load. 
Darryl Hebert (keyboardist) Darryl collaborated with Stonebolt, Prism, The Rhythm Method, and Matlen Starsley Band. Hebert's studio is filled with keyboards dating from 1955 forward, but the only way he can keep up with the range of sounds he needs is to utilize lots of virtual instruments running in Gig Performer audio plug-in host (as can be seen in this article). As a gigging musician, he's especially well-pleased that Gig Performer had shrunk his setup, making it easier to haul around between performances.  He also praised Gig Performer for great CPU efficiency, stating he had never seen CPU usage meter went over 40 percent, although he runs 12 hefty and CPU intensive plug-ins at the same time.
David Jameson (co-founder of Deskew, LLC, Ph.D. in computer science, and keyboard player in The Security Project, Beyond the Wall, and Reelin' in the Years) Gig Performer represents the intersection of David's dual worlds of music and computer science. In Gig Performer, David uses separate rackspaces (a complete configuration with all instruments, processors, and connections) for each song and rackspace variations (sets of parameter values for a rackspace) for changes within a song. Read more about him and his setup here; in this blog article he explains how he uses Gig Performer on tour with The Security Project, and in this one he explains in more detail why he and his business partner, Nebojsa Djogo, created Gig Performer to be more effective on stage. See photos of Gig Performer in Action here.
Greg Nelson (music producer and composer) Greg has produced recordings for artists such as Sandi Patty, Steve Green, Larnelle Harris, Twila Paris, Michael Crawford, and Richard Smallwood (a comprehensive credits list can be found at AllMusic). He was instantly impressed with Gig Performer, and saw many advantages in transitioning his keyboard rig over to the plugin host, which he described in his guest blog article here.
Harry Triendl (multi-instrumentalist) Harry is a musician from Austria. Harry is a soundscapes performer and visual artist also known as kunst4life. He plays touch-guitars (tapping guitars similar to a Chapman Stick), keyboards, electronic percussions and also sings. He has mostly played in central Europe with many musicians from around the world like Jamaaladeen Tacuma, G. Calvin Weston, Krzysztof Majchrzak, Philippe Pipon Garcia, Eivind Aarset, Markus Reuter, José Terán, Luiz Márquez, Denovaire, Pepè Fiore, Peter Jan Marthe, Norbert Zehm, Charly Fischer, Harald Pröckl, Karlheinz Siessl, Kristian Tabakov and many more. Learn more and see Gig Performer in Action here.
Igor Paspalj (guitarist) Igor has a unique playing style fueled by a strong cocktail of virtuoso influences – including Eddie Van Halen, Yngwie Malmsteen, Paul Gilbert, Vinnie Moore, Joe Satriani, Steve Vai and Guthrie Govan. Igor displays exceptional instrumental dominance, as well as an unparalleled compositional ability. He is the Electric Guitarist of the Year 2020, titled by the Guitar World magazine. Learn more here. 
Jacob Karlzon (pianist and composer) Jacob has been compared to luminaries such as Keith Jarrett, Bill Evans and Sweden's own legendary Jan Johansson. His playing style oozes technical brilliance, rhythmic and harmonic complexity with a perfect feeling for form. Learn more and see Gig Performer in Action here.
Jeff Gastineau (guitarist, keyboardist, vocalist and producer) Jeff performed on guitars, keyboards, and vocals as a member of several extremely successful regional groups including Scram, Money, Glass Hammer, and The Press. Jeff has been active in studios for over 25 years and has produced and engineered for various artists including Royal Crescent Mob, Gastineau & Harriman, Eurogression, JB Bruck, and many more. Jeff especially praises Gig Performer's CPU usage compared to other audio plugin hosts. For example, at SVCOnline he stated Gig Performer was "infinitely better" – in fact, 75 percent better performance than with other plugin hosts.
Jens Skwirblies (keyboard player in Lake, and The Magic of Santana) Having played with musicians such as Joe Cocker, Rod Stewart, Bobby Kimball, Ian Cussick and many more, Jens' credentials are indeed impressive. Read more at RavePubs on how his life changed with Gig Performer. See photos of Gig Performer in Action here.
Jim Erwin (Keyboard, Guitar, Vox in The Suburbans) Jim plays multiple instruments in many styles and genres with his band. He wrote a guest article on Gig Performer's blog, giving advice on the best practices for deploying VST plugins on the Windows operating system.
Jim Meyer (Chapman Stick player in Sticks and Tones) As can be seen in Gig Performer's blog, Jim was amazed by the portability and incredible versatility of his simple setup built around Gig Performer. 
John Talley (keyboardist and vocalist) John is a freelance Texas musician (keyboards and vocals) playing and recording for the last 60 years in rock, jazz, country and theater. He collaborated with bands such as The Jackals, Cheshire, Eakin Frout, The Beefeaters, Portrait, Stone Creek, Caliche, Talley Services, The Darren Morrison Band, Dan Carroll & The Tone Pirates. Learn more here.
Lukas Ruschitzka (keyboardist and composer) Lukas toured with Leona Berlin, performed hip-hop beats live in Jazzrow, rattled off jazz fusion riffs with the Julian Camargo Band, and a multitude of other projects. He praised Gig Performer's clear signal flow, even with very complex routings. Read more here. See photos of Gig Performer in Action here.
Michael Whalen (composer and music supervisor) Michael is a two-time Emmy® award winner, BMI award winner and Grammy-nominated composer and music supervisor. A veteran of more than 800 TV and film scores, thousands of commercials and numerous TV themes and video games, Michael is also a world-renown recording artist and producer with 32 solo and soundtrack recordings to his credit. In his interview, he reported he loved Gig Performer for giving him a lot of shortcuts for things that took him months to do in the studio, so that he had them instantly available live. He boasted he never had any negative experience with Gig Performing, such as locking or crashing, and it allowed him to fully respond to music (which he couldn't say for other similar applications he used onstage!). Simply put, Gig Performer has been revolutionary for Michael Whalen's music.
Michael Whittaker (keyboard player and composer) Michael's experience in many styles has allowed him to work with many notable artists including Lionel Richie, Jimmy Kimmel Live house band, Paulina Rubio, Wayman Tisdale, 98 Degrees, Cake, Boyd Tinsley (from the Dave Mathews Band), Brenda Russell, and many others. In this interview, Michael reported that he was immediately delighted with Gig Performer when he discovered it, and pleasantly surprised at how efficient it was. He was able to run advanced setups successfully that would crash the computer with other audio plugin host software. See photos of Gig Performer in Action here.
Myron McKinley (keyboardist in Earth Wind & Fire) Myron is also a pianist, producer, songwriter, programmer, and film score composer for large box office films and television shows. Known for his contagious energy that captivates the audience in amazement, Myron has a long list of working with the best in the industry. Currently as the music director and keyboardist for Earth Wind & Fire, Myron has been on tour with the late Whitney Houston, Chaka Khan and many others. See Myron in action here, demonstrating his skills with Gig Performer.
Nebojsa Djogo (co-founder of Deskew, LLC, Gig Performer developer and guitarist in Bura Band and Bridges) Nebojsa and his Deskew Technologies partner and fellow performing musician David Jameson developed Gig Performer to meet the demands of their own musical pursuits.​​ Read here how differences in Nebojsa's and David's approach and views resulted in the creation of this superb software product. See photos of Gig Performer in Action here.
Panu Rauhala (composer, musician, and producer) Not only has Panu composed for TV shows, commercials and other media but also for bands. As a gigging musician, he is a keyboardist in various bands and is also available as a freelance musician. See photos of Gig Performer in Action here.
Paul Patto (musician, producer) Producing under the moniker "Bluewolf", Paul has been racking up credits ranging from urban dance music and Christian artist Rahn Anthoni, R&B pioneer and Motown alumnus Sidney Barnes, to bassist and film composer Sean O'Bryan Smith and doo-wop legends The Dells. His new band is La La Land. According to RecordingMag, Paul developed "wild enthusiasm" for Gig Performer, enabling him to perform live, which, due to some disabilities, he could not otherwise do. Read more here.
Robert Frazza (audio engineer) Robert's live sound engineering client list is impressive, ranging from Average White Band and Adrian Belew to Warren Zevon and Youssou N'Dour. He also worked with artists from the King Crimson and Peter Gabriel musical families (including Tony Levin, Bill Bruford, and Jerry Marotta) and is involved with many bands such as Stick Men, Three of a Perfect Pair Camp and Security Project. He is also the FOH engineer at Bearsville Theater. Here are references from AllMusic and MixOnline. See photos of Gig Performer in Action here.
Robert Martin (multi-instrumentalist, singer and songwriter). Robert sings and plays keyboards, horn, saxophones and other instruments. He is mainly known for collaborating in the 1980s with the musician Frank Zappa, although he is also a prominent session musician, composer of music for cinema, theater, television and advertising, musical director and music teacher. He also directs music production company Think Method Production. Learn more here.
Stuart Tilsley (keyboardist in Magic Carpet Ride) This gigging musician explained in his interview how he created amazing sound despite financial pressure. Read more about his setup with Gig Performer, and how Gig Performer behaves on an average laptop running the Windows operating system (if you're still wondering how low can you get, refer to this article, and see the specs and the results). See photos of Gig Performer in Action here. 
Thaddäus Weindl (keyboardist in Sugar Daddy and Beyond-a-tribute, ex Brown Sugar) A programmer himself, Thaddäus dived deep into Gig Performer, utilizing its GPScript language and constructing huge plug-in networks. Learn more about his setup with Gig Performer at the Gig Performer's Press section. See photos of Gig Performer in Action here.
Tony Geballe (composer, guitarist, in Zero Times Everything) As a theatrical sound designer, producer, teacher, and mixer Tony is as versatile as he is accomplished. Read his biography here. Running Gig Performer, on a MacBook Pro laptop, Tony finds this plugin host to be more powerful and versatile than other systems he's tried. He saves his highest praise for Gig Performer's stability, a top priority in live performance situations. Read more about his experience here. To see photos of Gig Performer in Action, check this link.
Trey Gunn (touch guitarist, in King Crimson, Security Project) Trey has performed and recorded with a number of other musicians: Tool, Puscifer, Robert Fripp, Sean Malone and Gordian Knot, David Sylvian, Vernon Reid, John Paul Jones, Eric Johnson, Azam Ali, Matt Chamberlain, Michael Brook, Bill Rieflin, David Hykes, and many more. He has released a number of solo albums, as Trey Gunn and as the leader of The Trey Gunn Band. See his homepage for more info. In this Youtube video, he explains how he uses Gig Performer and how his setup looks. He praises advanced routing options that can be easily managed, as opposed to legacy pedal and rig configurations. Watch also this extended clip to see Gig Performer's back view in more detail. See photos of Gig Performer in Action here.
Please visit our Community to learn more about this list.
Own the Stage® and enjoy Gig Performer!
.
Related topics:
 – Gig Performer is the best companion for all your musical efforts and more
 – Gig Performer in Action Gallery
 – Various Photos and Videos of Gig Performer in Action