23 Jan

How do I get widgets to learn Omnisphere parameters?

If you are unable to get Gig Performer widgets to learn Omnisphere plugin parameters, it is probably the case that Host Automation is not enabled in Omnisphere.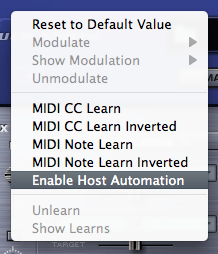 Please click on this support page at Spectrasonics for instructions on how to enable Host Automation in Omnisphere. Once you have enabled host automation in Omnisphere, you should be good to go.
Related topics:
 – Controlling Omnisphere in live mode
 – How to connect a widget to a plugin parameter? (User Manual)
 – How to rapidly assign plugin parameters to widgets?
 – Use host automation rather than MIDI to control plugin parameters
 – How to control Keyscape parameters from Gig Performer