27 Jul

Play with Gig Performer Piano VST: host software in live use

Note: This is an English translation of a German article written by Lukas Ruschitzka that first appeared on July 23rd, 2019 in Pianoo.de.
Play with Gig Performer Piano VST: host software in live use
.
Gig Performer is a cross-platform software VST host application for Windows and MacOS.
Gig Performer makes it easy to combine and organize VST instruments (such as piano, e-piano or strings).
Software instruments or effect plug-ins can be wired virtually, similar to what is known from a DAW, but with the focus on assembling, playing and switching instruments.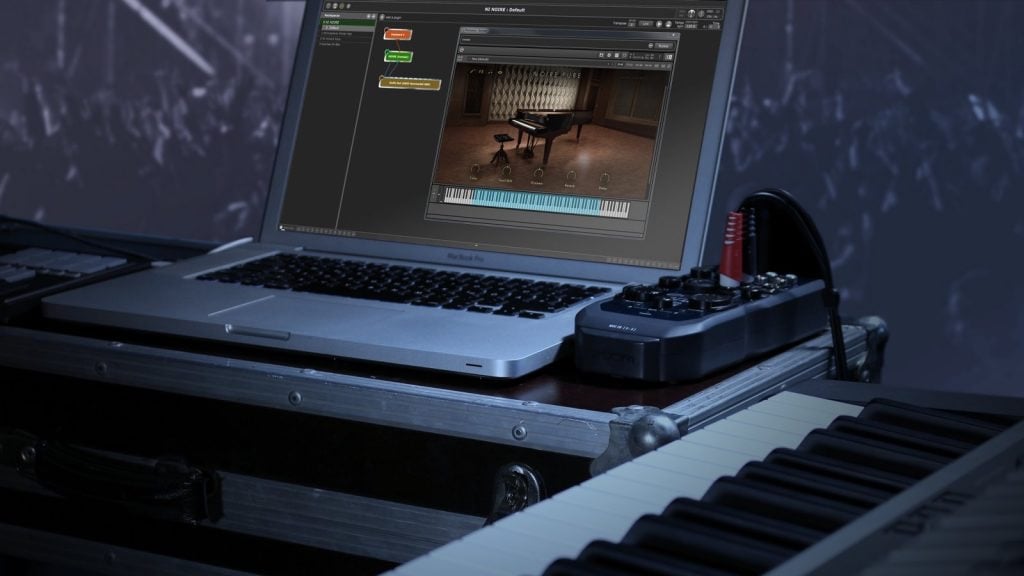 Why use a DAW just to play a piano VST? And what can you do if a software piano is not available as a stand-alone application? In order to be able to play simply a VST, VST3 or AU instrument, slimmer programs are available, which focus on the essentials: audio plugin host programs like Gig Performer make the loading, switching and of course the playing of software instruments very simple.
Of course, this is not just about playing piano VSTs. Gig Performer is ideal for combining several different VST instruments or developing complex sound setups. Playing a piano library with a string library on a keyboard is the simplest of all – in practice, the ability to easily retrieve combinations of instruments is particularly convenient.
The software comes from the American company Deskew Technologies. The two developers themselves are musicians who have always wanted a reliable performance tool to play their software instruments. Since they could not find a product that met their expectations, in 2016 they decided to bring their own software to the market.
Software Instruments and Rackspaces
.
Each instrument setup takes place in a rackspace. If different instruments are needed for different songs, then you create your own rack space for each song. Between these rackspaces, you can then switch quickly and without interruption, important for live, but practically also for the home. If you just want to play your favorite instruments, simply name the rackspaces after the corresponding instrument, e.g. "Keyscape Rhodes" or "Native Instruments NOIRE".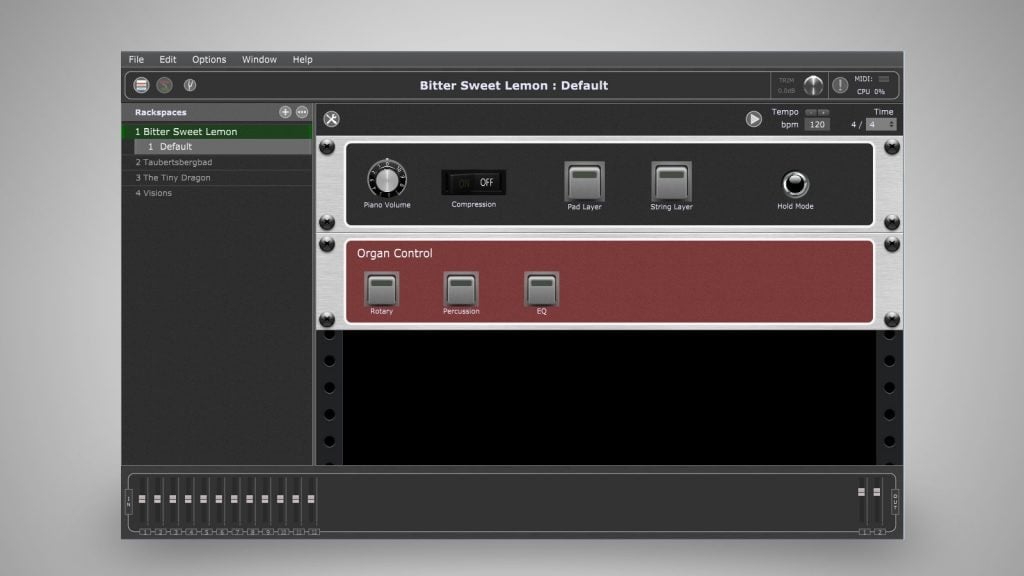 Gig Performer organizes software instruments in rackspaces.
The big advantage is that you can always grasp the structure of your instruments and effects at a glance. So you can easily build more complicated routings. Assuming you want to create a layer, that is, put two instruments on top of each other (for example, a piano with strings), you simply connect the MIDI block to two different instruments.
Then one can consider whether to add more blocks for effects, e.g. Hall (Reverb) or Delay. Of course, splits can also be implemented, i.e. dividing the keyboard, so that you can play a bass in the lower register, in the middle a piano and above an organ. The possibilities are endless and the clear visualization ensures that it remains clear even with more complicated arrangements.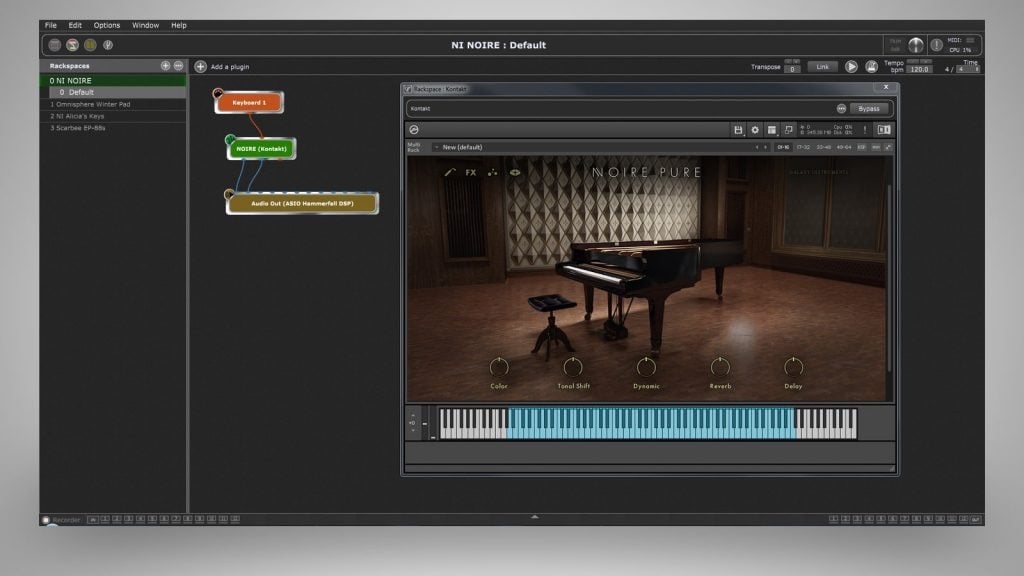 Virtual cabling
.
Unlike other audio programs, Gig Performer uses a highly visual approach: all instruments, effects, or the MIDI input keyboard are displayed as so-called "blocks". To make an instrument playable, simply connect the MIDI input block to the instrument and then connect the instrument to the audio output of the sound card.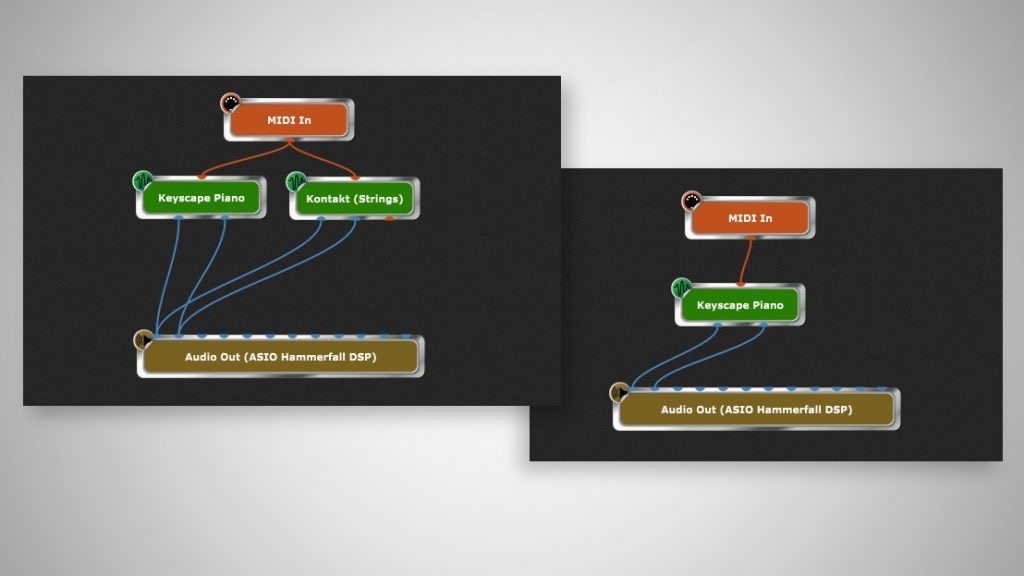 Differences to Apple's MainStage
.
The best-known and oldest performance software for playing software instruments is Apple's MainStage. I also worked with MainStage for a few years before discovering Gig Performer. The biggest advantages of Gig Performer over MainStage are for me:
Available for Windows and MacOS: While MainStage is for Mac users only, Gig Performer is available for both MacOS and Windows. You can even exchange files between both systems. Gig Performer recognizes which instruments are installed on the system and automatically loads the right one.
Stability: Gig Performer was developed with a focus on stability and reliability and is extremely stable. Before the release of each update, there is a very long trial period to ensure that everything runs smoothly. While MainStage periodically crashes when I load or switch sounds, I have not had a single crash with Gig Performer at a concert.
Easy to use: With Gig Performer, you can start right away without having to deal with complex set-up procedures. Start the program, load the instrument, wire it and off you go! Even more complex structures are still manageable in Gig Performer.
Community support: The developers of Deskew Technologies are in constant communication with their users, so that ideas and suggestions for improvement are regularly included in new versions. Even with questions or problems you get in the forum usually within a few hours an answer.
.
Everything at a click
.
If you play piano VSTs and other software instruments, you can not ignore audio plugin host software like Gig Performer. The program is aimed primarily at professional musicians on the stage. But even those who want to play software instruments at home in the living room or in the home studio will not want to miss the practical benefits of Gig Performer. Although the host software is simple, very complex routing is possible.
.
Related topics:
– Gig Performer is the best companion for all your musical efforts and more
– Why use a computer with Gig Performer rather than hardware
– Gig Performer provides flexible approach to keyboards and vocals live performers
– Gig Performer provides flexible approach to guitar and vocals live performers