16 Jan

Gig Performer 3 with setlist support debuts at NAMM 2019

At this year's NAMM show we will be debuting Version 3 of Gig Performer, our VST, VST3, AU live performance audio plug-in host for Mac and Windows systems.

At the Anaheim Convention Center, January 24-27, live demonstrations of Gig Performer 3.0 will be presented at Ilio (ACC Hall A, booth #11910) and TASCAM (ACC North Hall #18910).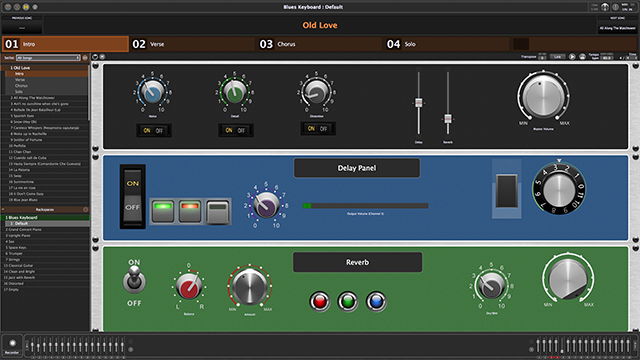 Renowned for its rock-solid stability, low CPU usage, ease of use, and flexibility, Gig Performer 3 adds a bevy of powerful new capabilities, especially to the program's control features.
The addition of setlists came largely by popular request. In Gig Performer, users create complete systems of plug-ins and controllers and store them as rackspaces, each of which can have settings presets called "variations." Gig Performer 3 adds the ability to create setlists of songs, each song consisting of a number of parts (rackspace variations).
Before, Gig Performer users often created a rackspace for each song; Gig Performer 3 setlists allow rackspaces to be reused. For example, a single rackspace containing an acoustic piano sound can be reused to cover 10 songs needing piano. Reusing rackspaces greatly reduces load times and memory needs. Guitarists will love that a song part can be accessed using a MIDI pedal controller, as well as from a control surface or Gig Performer's main window. New OSC commands load songs or song parts, and parts can be laid out onscreen to mimic the physical layout of a MIDI foot controller, making the display more intuitive to use.
Gig Performer's Predictive Loading feature, which slims resource demands by loading only the next few rackspaces that will be needed, can now be applied at the song level. All parts of a song are loaded into memory when the song is selected for glitchless, instant switching. At the same time, Predictive Loading limits CPU and memory requirements.
Control surface support has been strengthened with the addition of bidirectional MIDI control of widgets on Gig Performer rack panels, and the program now allows programming and transmitting SysEx (MIDI System Exclusive) messages, commonly used with hardware synthesizers.

Gig Performer 3 adds support for the Chord Pro lead sheet format. This allows Chord Pro documents to be created, edited, and linked to songs in a setlist so a chords-and-lyrics chart can be opened when a song is selected. Version 3 also introduces the ability to synchronize Gig Performer with other applications on a wireless network, using Ableton Link. Design workflow enhancements include inserting multiple widgets simultaneously and using new keyboard shortcuts to arrange them on a rack panel.
To supplement Gig Performer's popular Audio Recorder, Gig Performer 3 adds a MIDI recorder, which records incoming events from each MIDI device connected to Gig Performer to a separate track in a format 1 Standard MIDI File (SMF) that can be imported into a DAW for post-processing.

Related topics:
– Still on Gig Performer 3? Ten keys reasons to upgrade (Blog)
– What's new in Gig Performer 4 (User Manual)
– Gig Performer in Action at NAMM 2022 (Community)