27 Sep

Help us to help you – how to report problems

We want to do our very best to support every Gig Performer user. For general help with using Gig Performer, tips and tricks, ways to develop ever more sophisticated gig files, our community forums should be your first stop. Do a search there first and if that doesn't help, post your question in the appropriate forum. Long time users are welcoming and very willing to help new users get up to speed. The development team participates in the community forums as well.

There is also a ticket support system that can be used to report problems directly to Deskew Technologies, although in most cases users will be referred back to the community forums as most issues reported through our support system have already been solved or answered on those forums.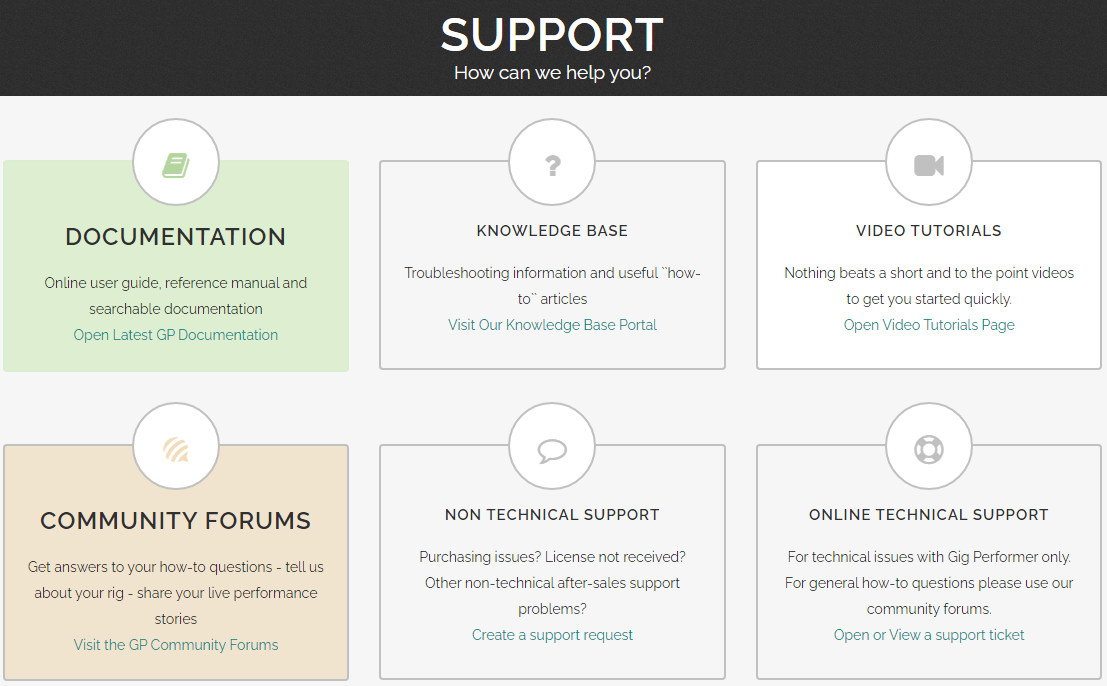 The support page also has a "Presales Contact" form for non-technical questions about Gig Performer as well as to contact us for business-to-business issues. Note that questions of a technical nature will not be answered through the Presales Contact forum.
If a recent version of Gig Performer actually crashes, it will most likely be due to an errant or buggy plugin (check this blog article to help you identify plugin that crashed). Depending on your platform, some operating system updates, audio interface driver updates, and also some anti-virus programs, particularly those that include real-time monitoring, can also cause Gig Performer (and other applications) to crash.
We realize that it can be hard for users to determine the root cause of such a crash and some experiments may be required to track down the issue. A typical clue that a bug is due to something other than Gig Performer itself is that Gig Performer has been operating perfectly fine and then out of the blue seems to fail. In such cases it's worth thinking about what might have changed in your environment. Did you add a new plugin that you had never used before or perhaps update your operating system or download new anti-virus updates, for example.
If you do have an issue, whether you ask on our forums or ultimately contact us directly, please don't just tell us that Gig Performer crashed. That's like telling your doctor to cure your ailment without your telling him/her your symptoms. There's absolutely nothing they can do.
The more information you can give us, the better are the chances we can efficiently point you in the right direction to resolve the problem. If you don't give us any information, frankly we probably won't respond much, certainly not quickly.
So here are some guidelines for what to include when you report a problem:
Your platform (Windows or macOS, and the version), amount of RAM, disk space (hard drive or SSD) and so on
What audio interface are you using, where relevant
What plugins are you using (and are they VST, VST3 or AU versions)

Are you using the very latest version of the plugin in question?
Did the problem happen after you performed such an update?

What were you doing that caused the problem to occur?
(Inserting a plugin, turning a widget, pressing your expression pedal, editing your layout, etc)
How long had you been using Gig Performer before you encountered the problem (years, months, days, etc)
Is it reproducible? If so, include the steps that we can follow to reproduce the problem
Did the problem happen after an upgrade to Gig Performer? Or after an upgrade to a plugin?
Did the problem happen with the trial version of Gig Performer
If you can, send us a complete stack trace, not an abbreviated version or just the beginning of one
Any other information you think might be helpful
.
The more information you can include at the beginning, the less we will have to ask you for clarification and details and therefore the quicker we will be able to address your problem.
.
Related topics:
– How to report issues and ask properly for help? (community)
– Tips to troubleshoot your setup (blog)
– Include your email address in the report