02 May

If your fans start running hot when you load Gig Performer, it's probably not Gig Performer!

A few Gig Performer users have reported a problem where, after loading a gig file, the fans (laptop fans, not your audience!) turn on, your computer gets hot and your activity monitor or task manager indicates that Gig Performer is using a huge amount of CPU cycles.

We have been able to reproduce this behavior – here is the setup:
Your computer is connected to a router that is not connected to the internet
(Why would you do this? Because you're using other devices such an iPad or Android tablet to interact with Gig Performer)
One or more of the plugins you're using is trying to connect to the internet and

won't timeout

after some period of time
(Why not? Probably because it's detecting that there is a LAN and therefore there must be a connection)
.
In our environment at least, this seems to be caused by plugins from Native Instruments (Kontakt, Absynth, FM8, Reaktor, Massive, Battery, Guitar Rig, and RC48 reverb plugin). It appears that in recent versions of these plugins, an option called Usage Data is enabled and that option is causing the plugins to try and connect to (presumably) Native Instrument servers. For some reason, the plugins don't seem to give up when a connection can't be made, perhaps they just keep retrying forever, we don't know.
The solution turns out to be trivial: quit Gig Performer if you're running it and open each of those Native Instruments plugins in standalone mode. In each one, open the options or preferences dialog and look for an item called Usage Data (In Absynth and FM8 it's a menu option!). If it's turned on, turn it off and close the plugin. After you've done it for all the plugins, restart Gig Performer and you should be fine.
Kontakt 6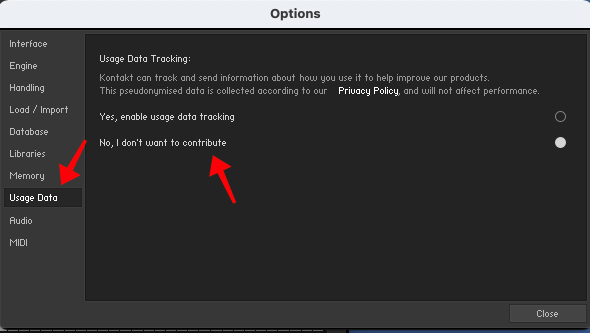 Guitar Rig 5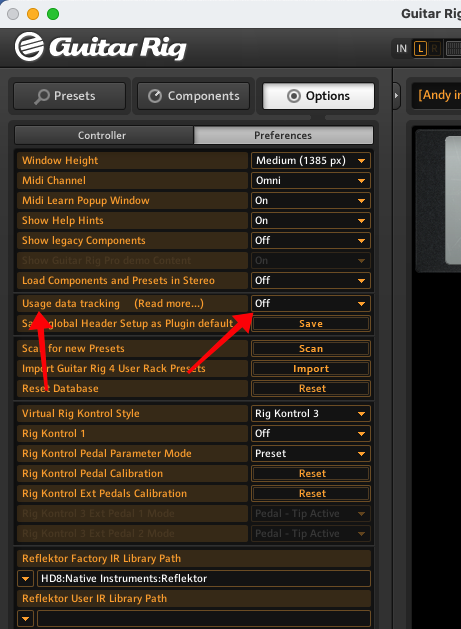 Absynth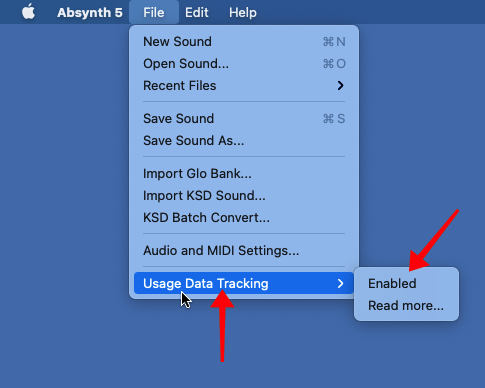 Battery 4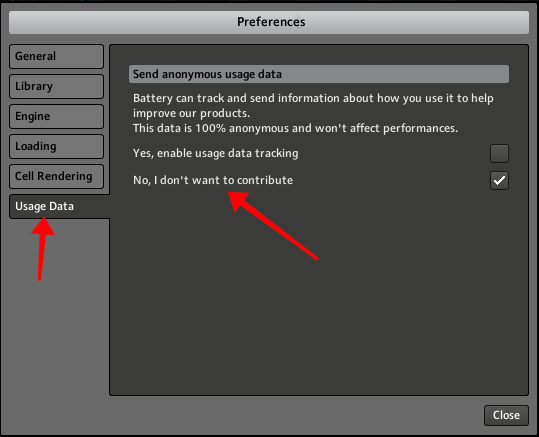 FM8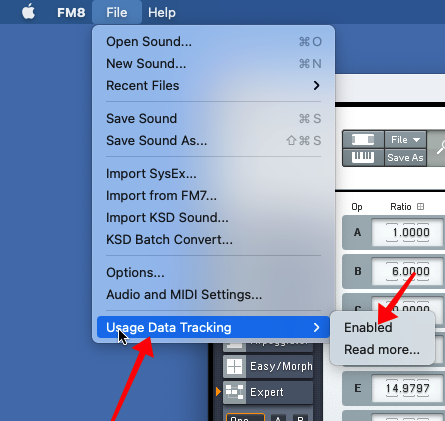 Reaktor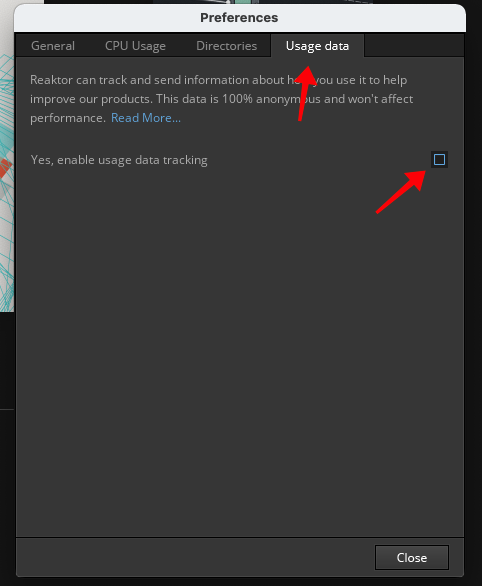 Massive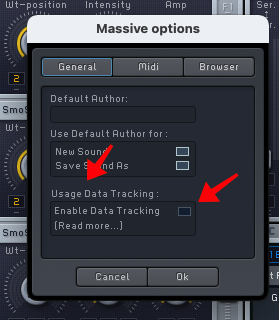 .
Related topics:
– Strange CPU usage when using FM8/Absynth5 from NI (Community)
– A plugin crashed! Find out which one
– Why does Task Manager or Activity Viewer show a higher CPU usage value than does Gig Performer?
– Tips to troubleshoot your computer-based setup