09 Feb

Gig Performer is not a plugin chainer
It looks like this or it looks like that…
….therefore it is the same as this or the same as that! My bicycle has wheels, your car has wheels so a bicycle is the same as a car!
As the great writer Alex Hailey once said, "Mistrust the obvious".
Sure, there are ways to connect plugins together, such as using a traditional channel strip model, via a matrix or visually, the last being the way that Gig Performer does it.
That's the easy part – and even easier if you use Gig Performer to do that routing. For an example of why it's easier, see a quick example at Gig Performer Way vs. The Channel Strip Way
But it's what you can do after you have connected your plugins together that makes the difference.
Simplified comparison chart

Rackspaces
In the Gig Performer world, you could think of each rackspace as a separate "plugin chainer". If you look at the first image at the bottom of this article, each rackspace on the left represents a complete collection of interconnected plugins. You can have as many rackspaces as you need for your show and more importantly, you can switch from one rackspace to another, even right in the middle of a bar, while playing a chord on a keyboard or with your guitar, and have the sound change instantly. Individual rackspaces encapsulate other functionality such as tempo, global sync, controlling audio tail length when you switch, program change configuration and so on.
Song mode
The second image shows Gig Performer in Song mode. Among many features of this mode, you can easily use it with a MIDI pedal controller where you can directly switch among different parts of a song (with instant audio switching of course) during the performance. You can reuse rackspaces but still override settings as needed. Switching song parts lets you send MIDI events out to external devices on the fly.
Here are a few other features:
Instant switching from one set of plugins to another on the fly with no glitching.
The ability to design front panels with knobs, sliders and buttons for manual and automated control from controllers, MIDI pedals and so forth.
The ability to manage a complete set of songs during a show or recording session.
Patch Persist so you can switch from one set of sounds to another with the old sounds remaining until you release the keys or sustain pedal.
Full remote control via MIDI or OSC so you can use a tablet attached to your mic stand to interact with Gig Performer instead of clicking on a laptop during a show.
Cross platform, Mac and Windows.
Support for ChordPro charts.
Control other hardware devices such as external synths, MIDI controllable mixers and so forth.
Support for Ableton Link.
A built-in programming language for advanced control…(MIDI transformations, function generators for modulation…).
So much else….you need to just try it!
Gig Performer Performance View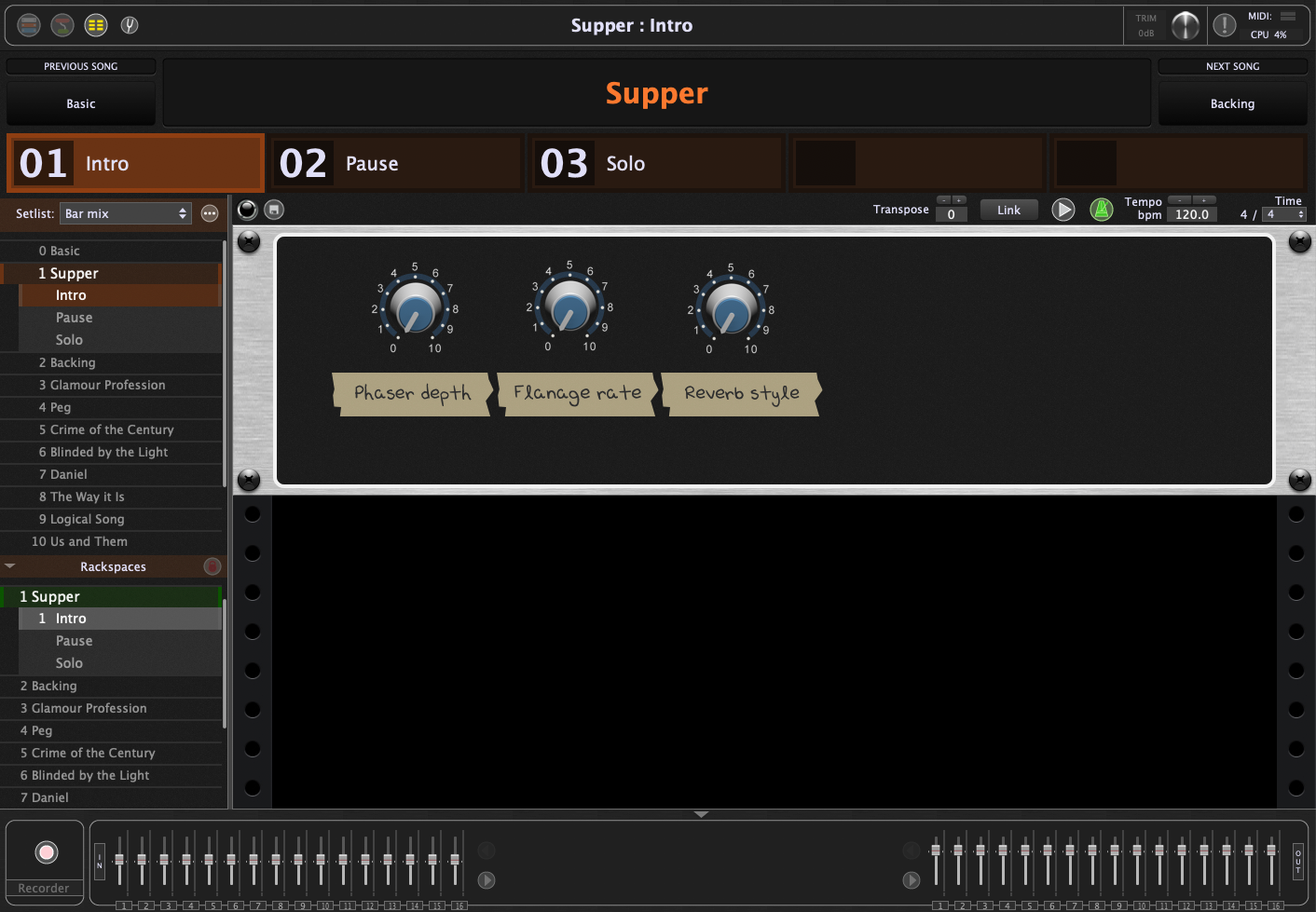 Plugin routing in Gig Performer
Gig Performer uses visual routing instead of traditional channel strips. Each rackspace (the column on the left) represents an entirely separate collection of connected plugins. You use these to create your songs and song parts for instant use in a live show or session with instant access.