16 Jul

Top websites for free audio plugins and how to use them in Gig Performer

In this article I'll present several websites where you can find and download free VST, VST3 or AU audio plugins, install them and use them in the audio plugin host Gig Performer, on Windows or macOS.  

The purpose of this article is to serve as a quick start-up reference for those users who downloaded the Gig Performer trial version (or bought a license) and are wondering where to find free audio plugins (but also commercial ones), how to import them, and how to use them in Gig Performer. I hope you find excellent free VST, VST3 and AU plugins and generate many ideas to experiment with, and then build a computer-based setup for your live gig!

If you're wondering whether you can try this on your old computer or laptop, don't worry, even a 10+ years old laptop will be more than enough, as can be read in this article.

I'll break this article down in a few sections:
Where to find free VST, VST3, and AU plugins,
How to install audio plugins on the Windows operating system,
How to import audio plugins in Gig Performer and connect them.
Top websites for free audio plugins
.
I'll compile a short list of some web sites that host free audio plugins, with no particular order and with screenshots. Many of these sites also offer commercial plugins. Afterwards, I'll mention a few more websites and direct you to the Gig Performer Community to find more information about this topic.  
1. KVR Audio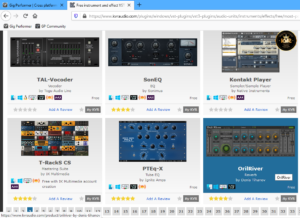 KVR Audio contains free instrument VST Plugins, VST3 Plugins, Audio Units Plugins (AU), AAX Plugins and Rack Extension Plugins for Windows and Mac OS X. You can filter their database of more than 1300 available plugins by your operating system, plugin type, etc.
2. Looperman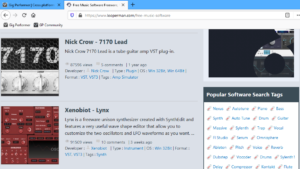 Looperman provides a curated collection of free software, VST plugins, VSTi instruments, audio utilities and DAWs for PC, Mac and Linux. I include it in this list because I downloaded my first free audio plugin on this website.
3. Plugin Boutique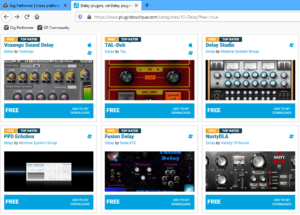 At Plugin Boutique, you can find also a Free section, where free effects, instruments and studio tools are showcased.  
4. VST4FREE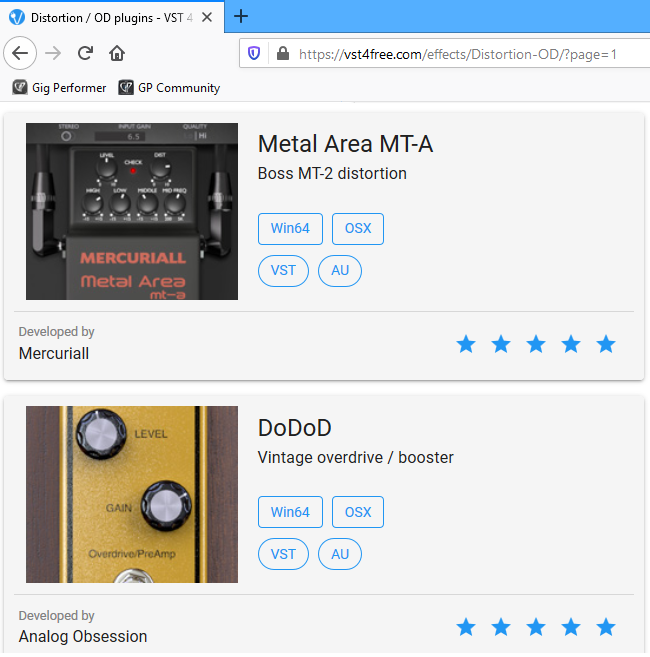 VST4FREE is a website that includes only free VST and AU audio plugins for  Windows, macOS, and Linux.
5. Bedroomproducersblog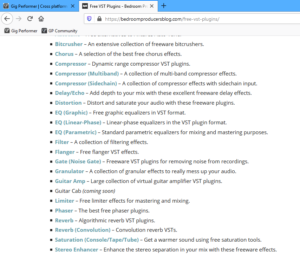 BPB is an online magazine for music producers. It covers all topics related to music production, including audio plugins and other music-making software, digital workstations, audio hardware, and sound design tools. A detailed free VST plugin section is included and organized in categories.
There are lots of other places, where free audio plugins can be found, such as: VST Planet, AudioPluginsForFree, FLStudioMusic, DSK Music, Native Instruments free VST plugins, Splice, and many, many more. Visit this topic in our Community section, to read what websites and free plugins other Gig Performer users use, or to share your experience with other members.
Please note that when it comes to pricing, you usually get what you pay for. Don't expect miracles with free audio plugins. They are typically used as promotional tools for other commercial more feature-rich plugins made by the same company. Still, read this blog post to discover some hidden gems that are absolutely free.
Read here a great write-up of which go-to plugin list a pro keyboard player is using.
How to install audio plugins on Windows
.
Please note that legacy 32-bit plugins are not supported by Gig Performer. Although there is a way to use 32-bit plugins in Gig Performer on Windows, that is not recommended; on Mac as of OS X 10.15 (Catalina), don't even bother trying.
When it comes to selecting plugins, there is a myriad of choices and decisions to make. Everyone has their favorites and everyone is trying to find the right combination of plugins to create that great sound on stage.
OK, I downloaded a couple of audio plugins: OrilRiver, Nick Crow 7170 Lead, Metal Area MT-A and Klanghelm DC1A, and put them in new folder GP-Plugins. I haven't use this combination of plugins before, you'll see how it sounds at the end of this article.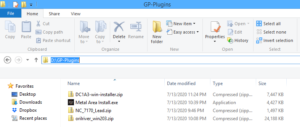 Free plugins are often distributed in compressed archive format, i.e. in ZIP or RAR archives, and the only thing you need to do to "install" a plugin is to extract the archive you downloaded: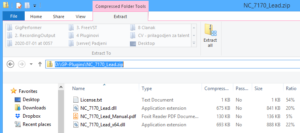 Since these archives may contain both 32-bit and 64-bit versions of the plugin, pay attention to use the 64-bit version: NC_7170_Lead_x64.dll. Basically, this DLL file is all you need to use a VST2 plugin in an audio plugin host – you can remove other files if you don't need them.
Other audio plugins, such as Mercuriall Metal Area MT-A, are distributed as installers (EXE, or MSI setup files on the Windows operating system). Run them and install them as any setup file: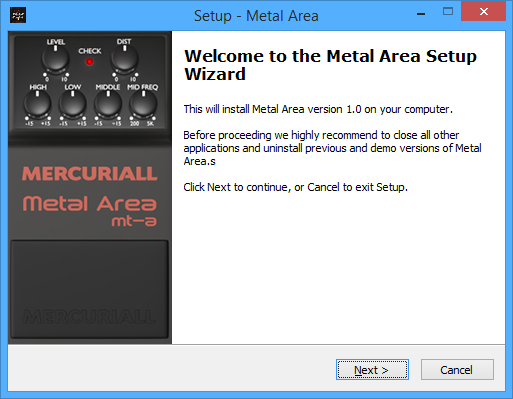 Installers may ask you which plugin types to install; Gig Performer supports VST, VST3 and (on Mac only) AU plugins (AAX plugins are not supported):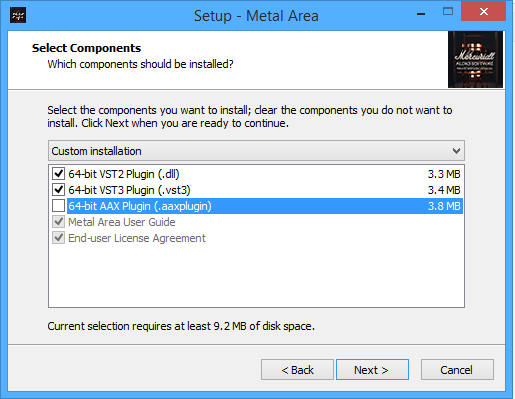 To keep this guide simple, I selected only VST2 Plugin (.dll). When prompted to choose a destination path, I didn't select the default one: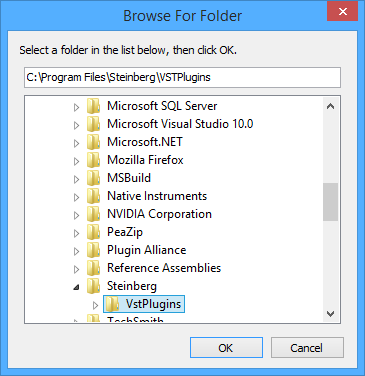 I selected my newly created folder: D:\GP-Plugins; afterwards, I completed installation of the other free VST plugins I previously had mentioned, so my plugins folder looks like this: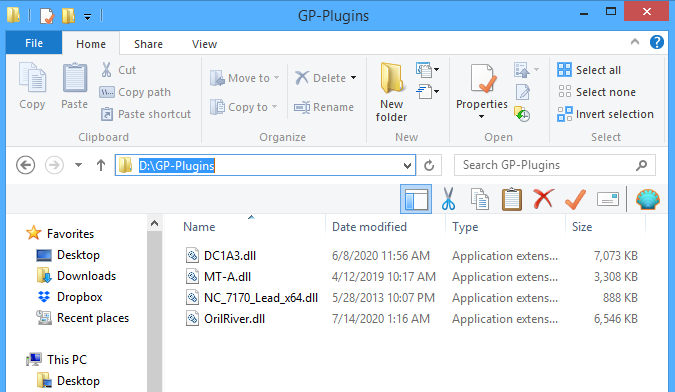 You can also read a guest blog post by Jim Erwin (keyboard player with The Suburbans), about best practices for deploying VST plugins on Windows.
How to import audio plugins in Gig Performer and connect them
.
Easy combining, inserting and tweaking your plugins is essential for any serious musician. That's why a great plugin host application is a must. Look here how Gig Performer compares to other audio plugin hosts.
To set a location of your audio plugins in Gig Performer, click on the Window menu, and select Plug-in manager…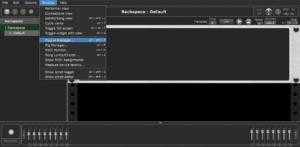 Click on the Manage button, and select Set VST folders for scanning…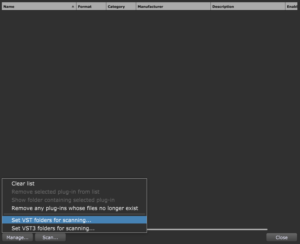 Choose your folder location where your VST plugins are installed (mine is: D:\GP-Plugins):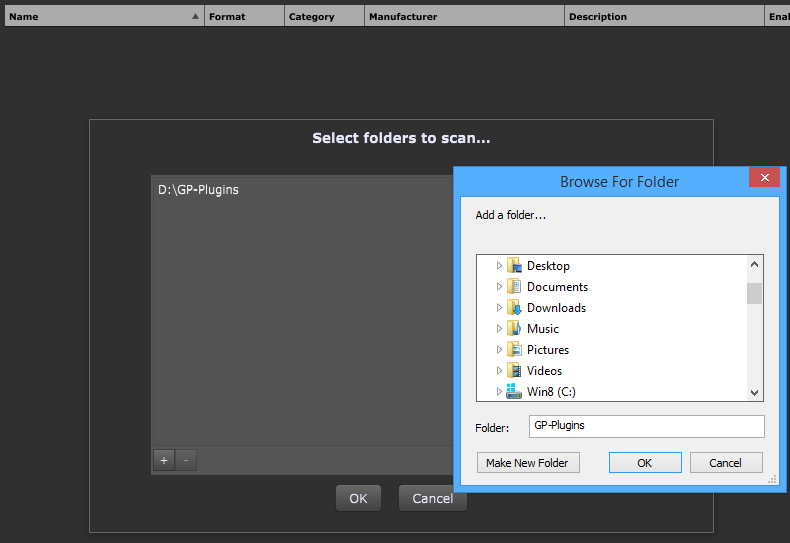 Gig Performer will recognize plugins from the selected folder:

OK, now it's time to insert our plugins and connect them. Close this window, and click on the Back View in Gig Performer; you can see a hint to click right mouse button (on the empty space) or use the keyboard shortcut CTRL+P to insert a new plugin: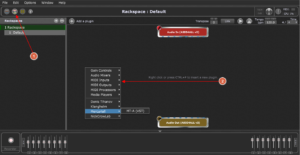 Let's add Metal Area MT-A (this free plugin is modeled after the legendary BOSS® Metal Zone MT-2™ pedal):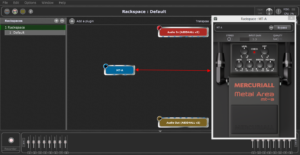 You can see the plugin block MT-A, and its GUI display, which automatically appears when you add a new plugin. This block has two input ports and two output ports (click here to learn more about ports). The caption of every block can be changed, so it presents more meaningful name; click the block with the right mouse and select Caption to change it (I named this block "Metal Area").
I added the remaining three plugins, and gave them names: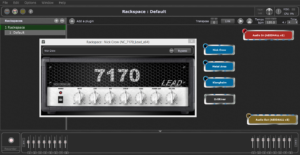 You can't hear anything, of course, because the plugins need to be connected with inputs and outputs. I quickly arranged the plugins and connected them as in the screenshot below: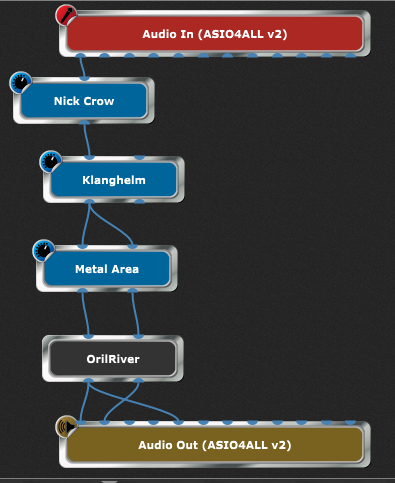 Let's see how this setup sounds: I've plugged in my guitar and quickly recorded the first riff that came across my mind, by Gig Performer's own record feature. 
The sound of your guitar can drastically be changed by modifying various parameters in connected plugins. For example, you can increase bass, decrease mids, add more distortion, change the reverb preset and tweak, or easily add other plugins in your chain (phazers, delays, flangers…). This visual approach has been praised by users of Gig Performer who perform live.
Also note: Gig Performer is not a plugin chainer. It is not a DAW, either. Gig Performer is an audio plugin host specially designed for performing live. There are many ways Gig Performer can interact with your DAW, e.g. you can leverage other DAWs' proprietary plugins to Gig Performer, or you can record your live performance with a DAW. 
Enjoy Gig Performer, and happy experimenting!
Nemanja Pudar
.
Related topics:
– Why use a computer with Gig Performer rather than hardware?
– David's go-to plugin list
– How to combine guitar plugins to create a unique sound
– What are the best plugins to get?
– List of best free VST and AU plugins you should try out!